Event 93 : Celebrating 69th Republic Day
Posted in :
Events and Activities
on
by :
NGO Tammana
Comments: 0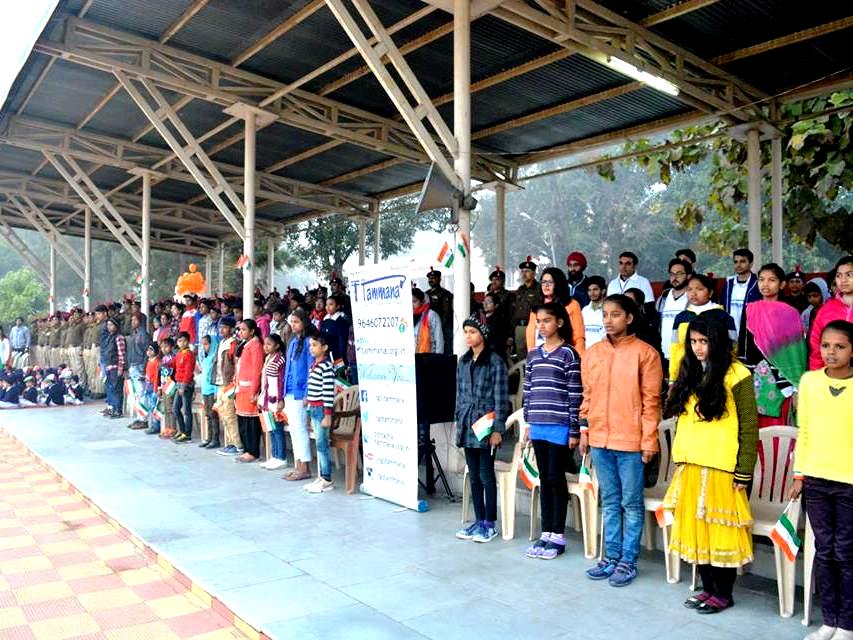 NGO Tammana in association with Indo Tibetan Border Police Force, Chandigarh today celebrated the nation's 69th Republic day by making it very special & inspiring for the children from sector 49 slum. ITBP force hosted these children and the NGO's team members at the ITBP force Campus, near Old Airport Chandigarh Light point.
Escorted by members dressed in signature Tammana T-shirts, 50 children reached the venue in a bus arranged by the ITBP force. Within the campus, patriotism in the air could be felt as the day progressed from prestigious flag hosting moment to a perfectly harmonized parade. The children in the audience clapped, both in appreciation and admiration for the guards.
Training centre of the ITBP force also arranged a Dog show followed by a Karate show to keep the children engaged and enhance their understanding of different tasks taken up by the force. As a specialized mountain force, most of the officers and men in the force are professionally trained mountaineers and skiers. Being the first responder for natural disaster, ITBPF carries out numerous rescue and relief operations across the country enabled by these training courses.
Finishing his refreshments before boarding the bus, bright eyed Santosh, a 14 years old boy said to a Tammana member, "I will one day be in this parade."
Founder of the NGO, Isha Kakaria who is also a member of the ITBPF Sexual Harassment Complaint Committee; credited the success of the event to the thorough support of the ITBPF in helping inspire the young minds.
The event, numbered 93; organized by Chandigarh based NGO Tammana in collaboration with the ITBP Force aimed at instilling in each child's heart a desire to dream and kindle the passion to pursue it.