Event 91 : Punya'2017 – Midnight Blanket Distribution Drive
Posted in :
Events and Activities
on
by :
NGO Tammana
Comments: 0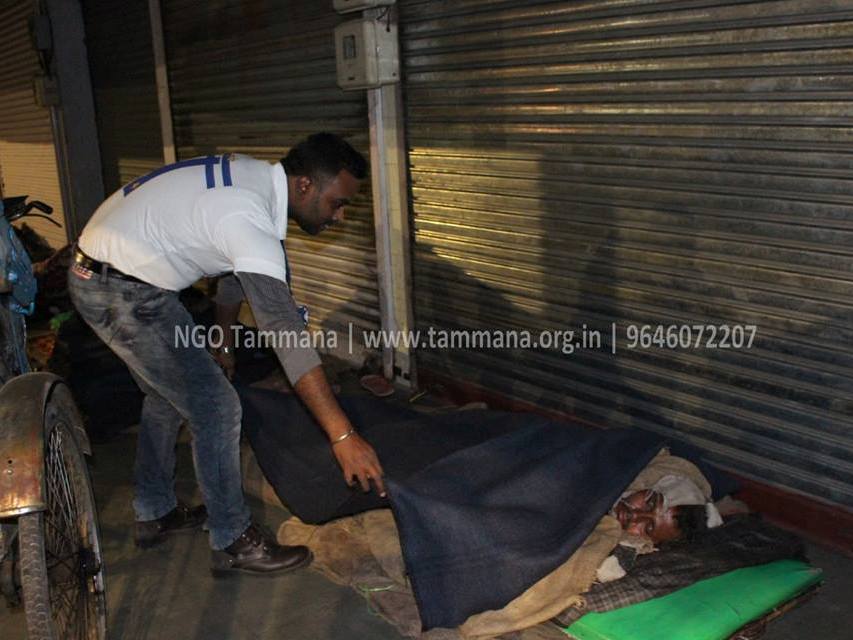 The youthful Santas' covered the frozen roads of tricity with the warmth of love & compassion during a silent blanket distribution drive – Punya 2017 – organised by tricity based NGO Tammana. The members of the NGO on 10th December in a fleet of cars; went around the tricity at midnight & covered the shelter less with warmth without having wake them up. The silent rally started at 3am & ended by 7am.
For the event, a special route map was pre-designed taking into consideration the spots of construction sites, market corridors, etc. In a pre dated survey done before the event in a midnight visit, 300+ shelter-less were found sleeping on sacks, covered with negligible warmth. It is quite evident how the vendors, rickshaw-pullers find the market corridors warmer than any other open space to sleep. Considering the combined effort the team could make, the event was decided as its annual move by the NGO.
Various social media handles were put to best utilization to encourage the general masses to do their bit.
Founder Ms.Isha Kakaria expressed that there has been an appreciable team effort where the collections speak great results!
'Punya' is another step about bridging the gap & raising the community bonding. Respective stock centers at Chandigarh, Doraha, Mohali, Panchkula and Zirakpur were set up to invite collections for old or new blankets, quilts, khesees & shawls from the general public.
Rs. 43901 /- were raised for the event from which the 255 fresh blankets were bought for distribution at a bulk price; while  307 old and new blankets were received in kind.
Punya 2017 was the 91st event of the NGO. Corporates too; including Beyond Code & Escalon Mohali participated wholeheartedly in the event.," shared the Public Relation Executive; Ms.Sana Sachdeva.
Team Member, Priyanka Jindal shared her joy that it was quite a way to celebrate Christmas differently!