Event 90 : Fun day at zoo – Children's day celebration
Posted in :
Events and Activities
on
by :
NGO Tammana
Comments: 0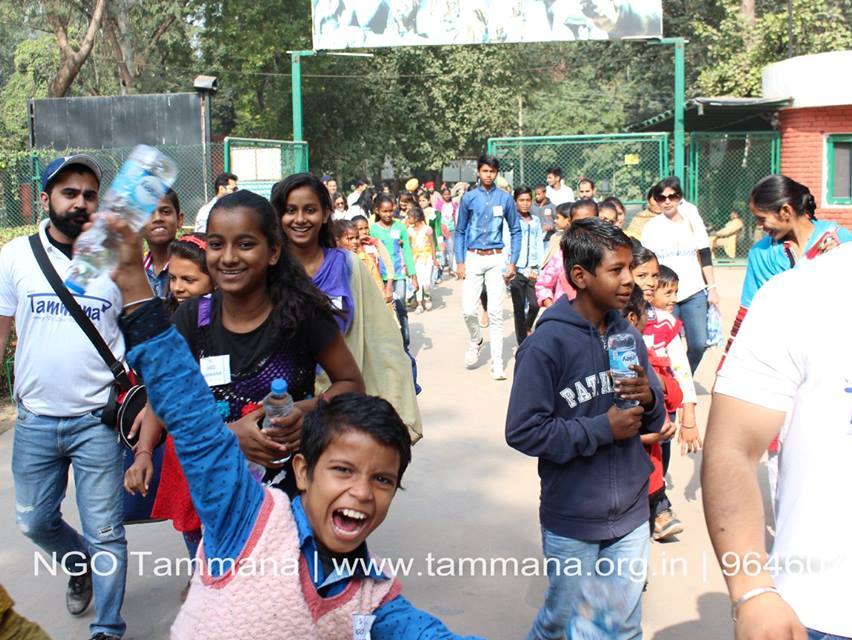 Tricity based NGO Tammana organised a trip to Chatbir zoo for more than 50 children from the slums of Sector 1 and Sector 49, Chandigarh as a part of their 90th event.
This event was organised to celebrate the joyous occasion of children's day and commemorate the philosophy of Pandit Jawaharlal Nehru that "children are like buds in a garden and should be carefully and lovingly nurtured as they are the future of the nation and citizens of tomorrow".
Excitement was evident in the eyes of the children as they were looking forward to this not so regular Sunday. Their first ever trip to a zoo, was meticulously planned, where in the children were pinned with tags, ensuring their safety. They were taken in a bus to the zoo and various members of the NGO were specifically assigned to take care of each kid. Apart from being recreational, the event aimed at introducing the young children to the diversity in a more fun way. Also, the members took keen interest in educating the children about the importance of this natural heritage and the harm which is being caused due to the rising pollution levels in the country. The children participated in a number of fun activities and games after which they were given fulfilling refreshments and exciting gifts for their everyday school.
Many children expressed that they had a very memorable day and were delighted to actually see so many of the animals like that of baboon, cheetah, etc. that they had earlier only read about in books. Not just that, the children & the team too enjoyed the varied birds in the zoo. Special attraction was the reptile house where the snakes drew all the close attention. Proper care was taken to maintain cleanliness and discipline throughout the trip hence instilling these qualities in the children.
After the event, members of the NGO and staff of A.T.E said that this trip was an amazing experience for them as well because they got a chance to relive their fond childhood memories and the time spent with the children would be cherished lifelong.