Event 88 : A differently abled Diwali
Posted in :
Events and Activities
on
by :
NGO Tammana
Comments: 0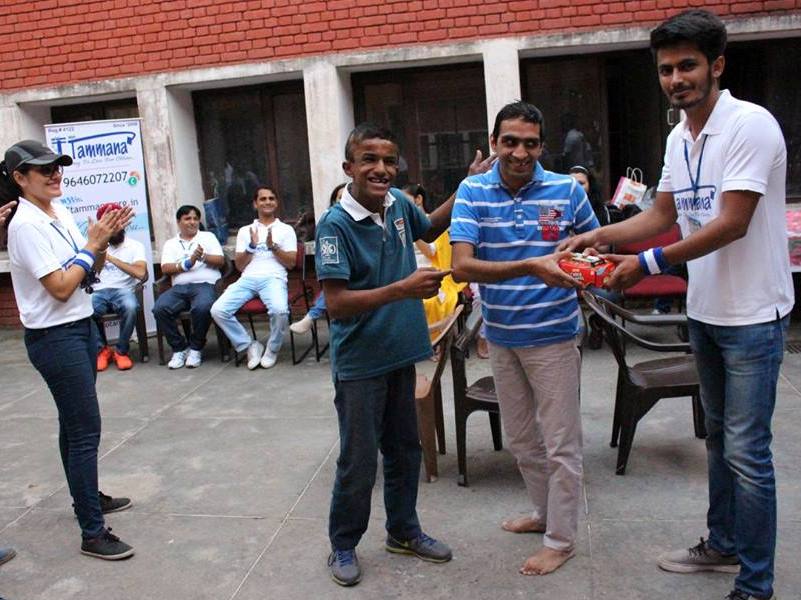 NGO Tammana celebrated this Diwali differently with the differently abled children of 'Samarth' shelter home, here in Chandigarh today. Beginning of the event was marked by Rangoli making with flowers & colours together with the children & the members of the NGO. The event geared up as the games became a source of another excitement of the day for the children where they won many gifts for themselves. Jumping of joy, children switched to the dancing mode & enjoyed their favourite tracks as they played, while refreshments & snacks were served to them with sheer delight. The presence of RJ Meenakshi got the celebrations cheering with live videos & photographs. Students from Dikshant School contributed bedsheets for & eatables at the shelter home & their made their presence a source of happiness for the special children. Team Tammana helped fulfil the sweet little demands of the children like those of bindis, bangles, hand towels, chocolates, pies, nail paints & more. The innocence shined through the eyes of the children where they did not want the group to go back.
As the sun began to set, diyas & candles were lit all over, reminding the message of the victory of good over evil.
"There is a larger family outside the four walls & is confined, a step out is all we need. " On that note, the Founder President Isha Kakaria shared how each contribution in the team is responsible for the success of the event, once again.' Public Relation executive Ms.Sana Sachdeva expressed that "Charity begins from home but must not stop there". NGO Tammana conveyed its gratefulness to the donors who donated in kind for the event & surprised the children with various goodies & diwali gifts packs for them.
Team Tammana also spread the message of a green Diwali by not bursting the crackers keeping in view the environment & children safety. They also insisted everyone around to follow the same.
Tammana who recently completed its 9th year, this event was their 88th. The NGO is not financially aided & looks forward to connect the like minded.