Event 87 : Kanya Pujan
Posted in :
Events and Activities
on
by :
NGO Tammana
Comments: 0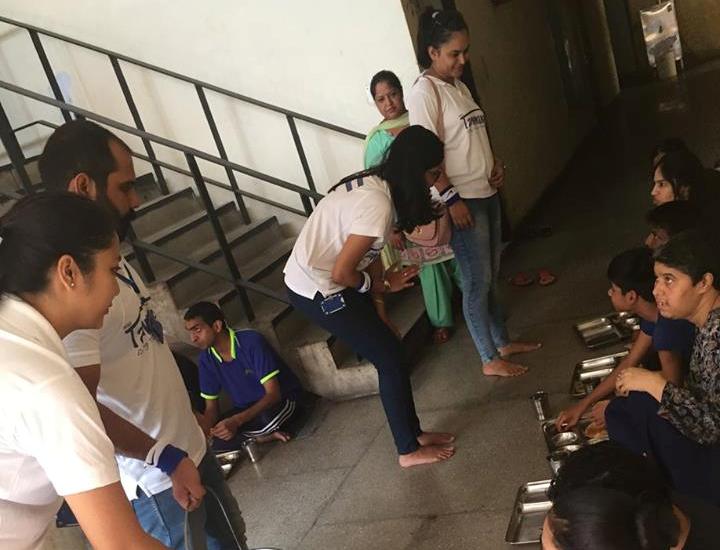 Preceding the auspicious occasion of Navratri and upcoming International Girl Child day, the members of Tricity based NGO Tammana,Chandigarh organised 'Kanya Pujan' as their 87th event in order to commemorate the significance of the girl child. The event was held at the Samarth Home, a home for the specially abled children, Sector 15, Chandigarh today on Sunday, 17th September 2017.
Ms Isha Kakaria, Founder of NGO Tammana expressed that the event was not solely intended to be religious but was organized so as to recognize the feminine power vested in the girl child and to give them as much importance in the social fabric as the boys. The main aim of the event was to spread awareness about the upliftment of the girl child, how a girls' progress is important & affects not just themselves, but also their families, our communities and the whole society at large.
Strong believers of the  motto that "empowering the girl child is the best way to empower the nation", the members of NGO Tammana served Halwa, puri & Channa lunch to the specially abled children. Fruits were distributed to make the children aware about the importance of nutrition and a balanced diet for proper growth and development.
Ms.Tannu Hooda, a new member of the team shared that these specially abled children were full of joy & expressed the same in various forms including dancing to their favourite tunes, jumping out of joy & also giving their wish list for the team's next visit. The wishes were as little as possible like those of chocolates, bangles & bindis; however spoke high of how little joys can turn into big happiness.
After the event at Samarth, Team Tammana took over for distribution of food outside PGIMER,Sector 12 Chandigarh & then Government Hospital, Sector 16 Chandigarh too. The lunch hours saw people happily relishing the food.
The event also supported the International Day of the Girl Child that is celebrated on 11th October every year in accordance with a statement by the United Nations that states "when we invest in girls' health, safety, education and rights – in times of peace and crisis – we empower them to reach for their dreams and build better lives for themselves and their communities".
An epitome of community bonding, NGO Tammana has been consistent in their efforts of service to the society since the past 9 years, and aims to do better with each passing year.