Event 85 : Celebrating the Indian Independence Day
Posted in :
Events and Activities
on
by :
NGO Tammana
Comments: 0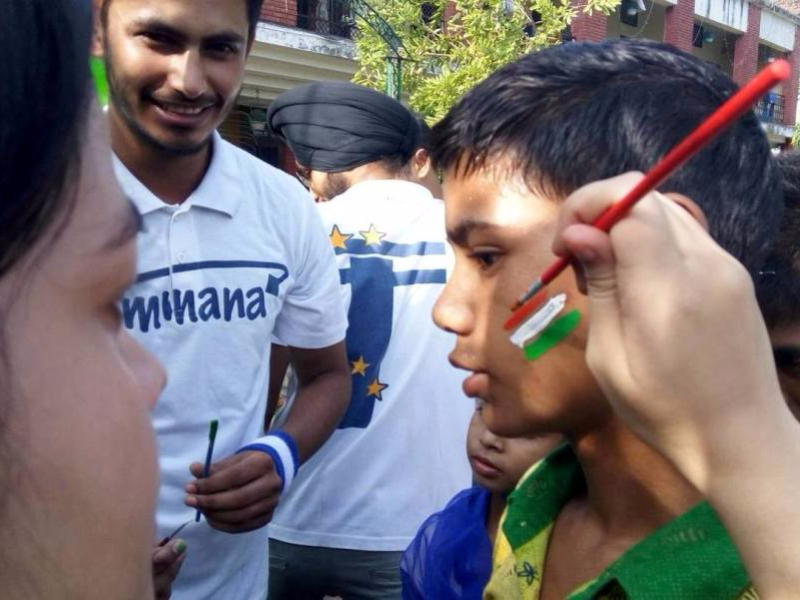 Independence Day was celebrated by tricity based NGO Tammana on August 15th, 2017 in the morning hours from 
8-10am
 at Kartar Asra Old Age and Shelter Home in Sector 1, Chandigarh.
The activities commenced early morning with face painting. Tammanites along with the children were seen doting the tricoloured flags on their faces just as the tricolor shined through their uniforms. Team Tammana carried out fun one minute trivia sessions on India to engage the participants of the event and to spread awareness; to which various gifts & toys were given.
Patriotic spirit of the children and the NGO members echoed in the patriotic songs played there. Hoisting of the Indian National Flag was the attraction of the event along with the National Anthem which the residents of Kartar Asra , the team and their family members sang in unity. The flag was hoisted by the oldest and the youngest member of the shelter home. Tricolor Refreshments were another major attraction & were distributed to all during the event along with balloons for the children.
This 85th event of the NGO spread a message of patriotism and national pride and encouraged the feeling of " love for your country" specially in the hearts of young residents of the shelter home.
Ms. Isha Kakaria, the President of the NGO quoted J.F.Kennedy " Ask not what your country can do for you. Ask what you can do for your country" and exclaimed how her belief in this thought has motivated her and Team Tammana over the years for the welfare activities they carry out year round.