Event 123 : ASHIA 13 Celebration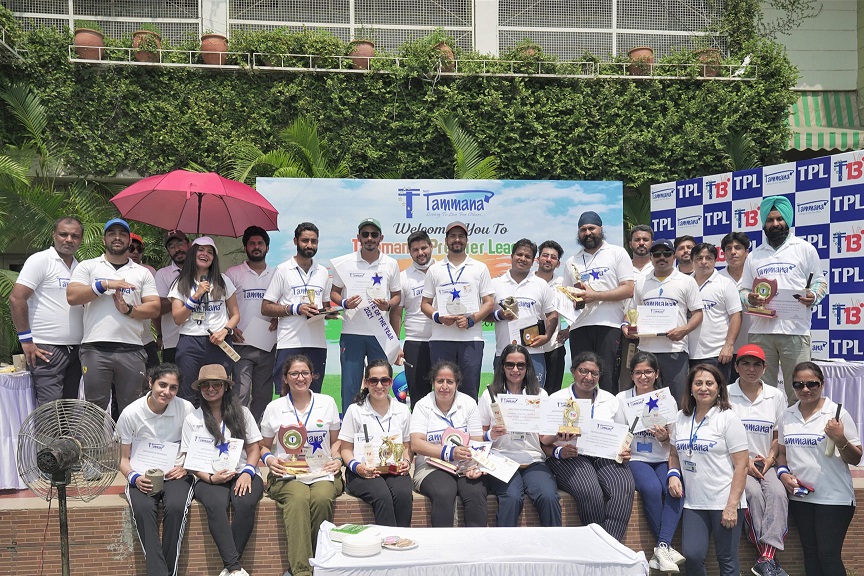 Tri-city based & State awarded NGO Tammana celebrated its 13th Foundation Day "ASHIA 13 " in its Event #123 here today on the Independence Day. This year, Tammana Premier League (TPL) was organised for & by the NGO members whereby the team played a friendly "13" Over cricket match at Stump'd- The British School, Sector 44, Chandigarh.
The event commenced with the Lamp Lighting Ceremony & the National Anthem; post which the "T13" Match began. Both teams consisted of 13 members each who played to victory and the rest of the team cheered up.
In the post match presentation, the winners were felicitated & TPL Souvenirs were handed over to the entire team in lieu of celebrations of 13 years. TPL's exclusive recognitions included Performer of the Match, Catch of the Match, Orange Cap for Maximum Runs, Purple Cap for Maximum Wickets, and Super Sixes for Most Sixes.
The most awaited Annual Awards were thereby announced including the 7 Star Awards handed over to Ruchi Kapoor, Anubha Ohri, Karan Rana, Kamalpreet Kaur, Kanika Sapra, Vandna Ghuman, Rishabh Sood Deservingly, Rishabh Sood was sashed "Tammanaite of the Year 2021".
, The Superstar Awards to Suman Hooda, Sana Sachdeva, Prabhjeet Singh Grover , Backend Appreciations to Ritika Goel, Arvind Bhardwaj, Harleen Kaur, Jaskaran Singh, Meenakshi Mahajan      while many Experience Certifications were done too.
 Vishva Nath, Gurpreet Singh, Kamalpreet Kaur, Mansi Sinha, Anshuman Shukla, Sibina Simon, Piyush Garg, Kamalpreet Singh, Harpreet Kaur, Pallav Goel, Karan Rana, Ritika Goel, Jagrit Arora completed 1 year, graduated Vandna Ghuman, Jaswinder Singh, Anshul Thakur, Ruchi Kapoor and Kanika Sapra, whereas Arvind Kumar, Gurshant Sukhija, Anoop Garg completed 5 Years and Bani Singh, Prabhjeet Singh, Meenakshi Mahajan completed 9 years ,
Chandra Bisht was declared the Intern of the Year 2021.
The cake cutting ceremony added to the celebratory aura of the event. Supporting the NGO's Go Green Initiative, NGO members carried their own water bottles to minimise the use of plastic. Eco Friendly disposables were used to serve refreshments. Covid Safety and precautions were duly taken care of, as every member was screened for temperature prior the match with proper sanitisation maintained.
Founder President Isha Kakaria shared that "Ashia meaning Life and hope, is a day by the team & for the team. It is the Annual Award Ceremony organised to acknowledge contributions of its cconsistent members throughout the year."
General Secretary and Event SPOC Jaskaran Singh, shared that the idea behind the cricket match was to celebrate 13 years of union and great team-work."