Event 122 : Pride Week Celebration
Posted in :
Events and Activities
on
by :
NGO Tammana
Comments: 0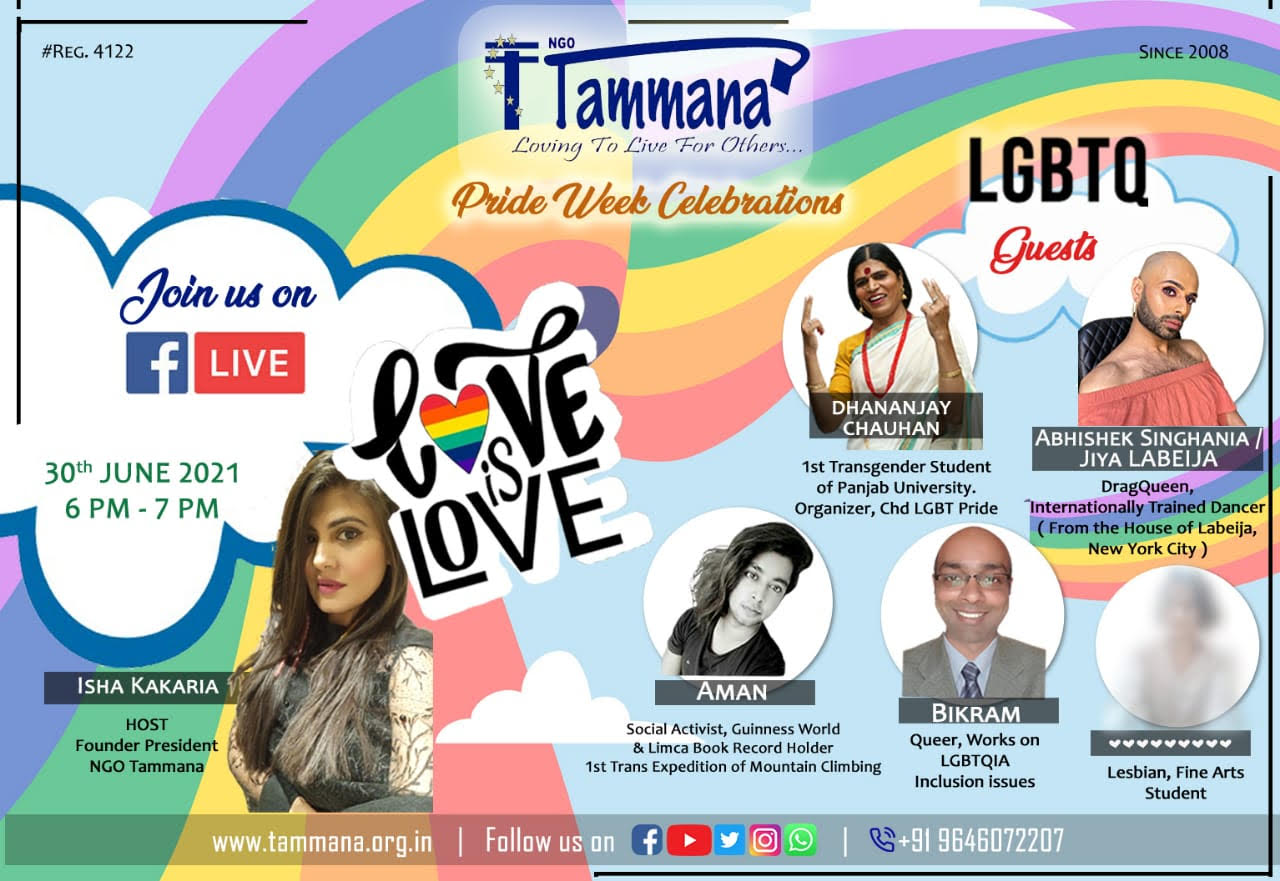 Pride Month is celebrated worldwide in June; dedicated towards the upliftment of LGBTQIA (Lesbian, Gay, Bisexual, Transgender, Queer, Intersex, Asexual) voices, a celebration of LGBTQIA culture and support of LGBTQIA right to live a dignified life.
Doing its bit, NGO Tammana extended its supports to the LGBTQIA peers and allies and celebrated the last week of June as Pride Week. During this week, NGO Tammana spread awareness about the rights of the LGBTQIA Community. Team members and the general public from India and abroad participated in the NGO's Pride Week celebrations & shared their support towards the LGBTQIA community through various Artwork, slogans and Quotes. On 30th June, the last day of Pride week, a very Informative Live Session was organised by the NGO whereby the Founder President, Isha Kakaria hosted Dhananjay Chauhan, Abhishek Singhania (Jiya Labejia), Aman, Bikram, Jyot (LGBTQIA Rights Activists and peers).
The session witnessed discussion upon their respective journeys of embracing their true identities, challenges faced by them meanwhile and their vision ahead to spread awareness about their rights. During the session, NGO members also asked various questions to the guests which made it fun & interactive. This session and Pride week concluded with the hope that our LGBTQIA community's fight towards a dignified life including the right to marry, to adopt children, to fight discrimination/ hate speech/ hate crimes would be fruitful and they would be able to live freely and love without any boundaries in the times to come.