Event 120 : Christmas Celebration in a shelter home
Posted in :
Blog
on
by :
NGO Tammana
Comments: 0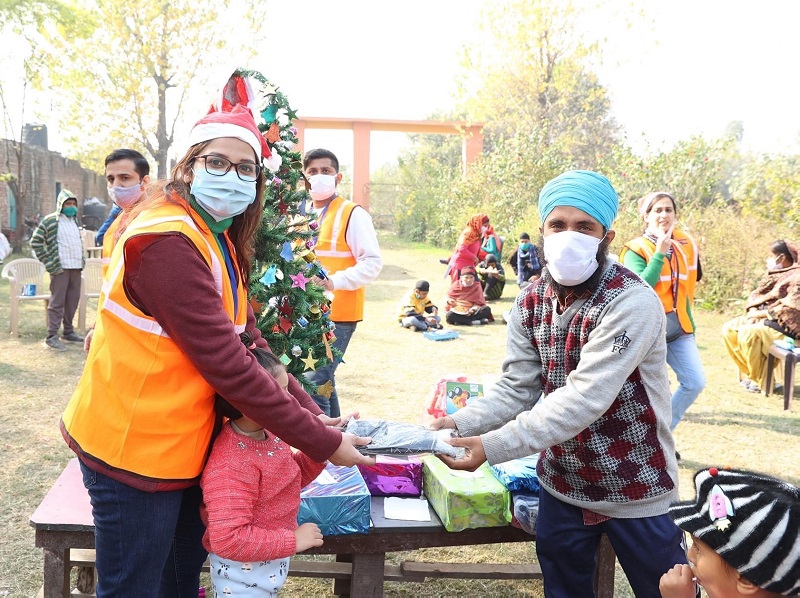 On the occasion of Christmas and New Year, NGO Tammana organized its festive event on Sunday. Several members of the NGO, with complete precautions; spent a day with the elderly & the children of Guru Aasra Shelter Home in Sec-55 , Village Palsora, Chandigarh. Christmas tree decoration by children followed by Santa's arrival, distribution of gifts, fun games, and cake cutting ceremony marked a fun-filled afternoon of Event # 120.
Harvinder Kaur, Member, brought out her joy saying "This event was not just about giving gifts, but fulfilling wishes. A wish list from the children & the elderly was chalked out days before the event to which various members from the team decided to fulfill those. Those exclusive wishes including remote cars, water bottles, shoes for the boys & dolls, games for the girls while suits, warmers & shawls for the elderly were gifted. "
Prabhjeet Singh Grover, Chief Advisor of the NGO  " The participants of the event were restricted & the event was not kept for public/non members unlike all our times. But importantly, it was the day we were able to spread cheer around waving the gloomy 2020 a good bye"
Founder President of Tammana, Isha Kakariashared that while we did not conduct any physical event due to ongoing pandemic since March'2020 for everyone's safety; but we haven't been inactive at all. From arranging 'Karona – Distribution Drives during the lockdown' to digital events & meetings all year long; everything has been new for us, yet successful with such great team work & public support. We continued, rather saw an even more successful rate of our initiative – Donate Drop of Love (DDL) for cases who need any kind of help. The NGO resolved 120 unique DDL cases in the Tricity & around this year alone.
Event Coordinator Meenakshi Mahajan who is fighting with Covid herself set a great example of utilising her time for the society, by being at home & still playing a big role in the making of the event as its SPOC.
Jaskaran Singh, General Secretary shared that "we had planned this event in a way where we could easily ensure social distancing measures and keep everyone safe. All the hygiene practices like sanitization and masks were strictly followed by setting up different checkpoints & stations.