Event 118 : KAHONA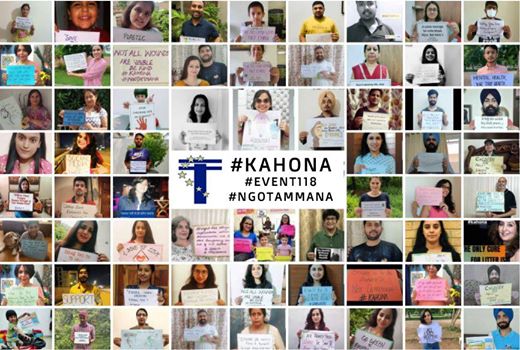 EVENT 118: KAHONA
In a dual celebration of the Independence Day & the International Youth Day, Tricity based NGO Tammana organized event 118 "KAHONA", its yet another digital event amid the Corona Pandemic, on the 16th day of August 2020.
Founder President Isha Kakaria shared that "every positive change starts by creating awareness about it. This independence day, we aimed to engage our youth to become actively involved in making positive contributions to society by raising their voice against social stigmas and creating awareness about social causes, seeking freedom from social taboos, and initiating a social change. Apart from the cause behind it, everyone enjoyed beating the testing times in this pandemic by doing their art work for the event."
Event SPOC, Anubha Ohri told that other than the members from the NGO , the general public participated too by posting their pictures with various social messages at every social media handle hashtagging #Kahona. While causes surrounding Environment Protection, Hunger, Mental Health, Women Empowerment, Gender Equality, Child Abuse, and Human Rights garnered maximum participation, we also received messages spreading awareness about Peer Pressure, Domestic Violence, Dowry, Animal Protection, Social Media Influence, Drugs Addiction, Use Swadeshi, Child Adoption and Pay Equity. Some of the members also posted short videos & poems apart from their pictorial messages to create awareness.
 From 'Viruses don't discriminate, neither should we.', 'Make the child learn, not earn!', 'Bias/Stigma is to be ashamed of, not Depression!' to 'So kyu manda aakhiye, jit janmeh rajaan', 'Jo dahej mangte hain unhe bheekh dijiye, beti nahi!', language was no barrier to speak for a cause and we received many such beautiful social messages from our members and public.