Event 106 : SMILE CARE DENTAL CAMP BY NGO TAMMANA
Posted in :
Events and Activities
on
by :
NGO Tammana
Comments: 0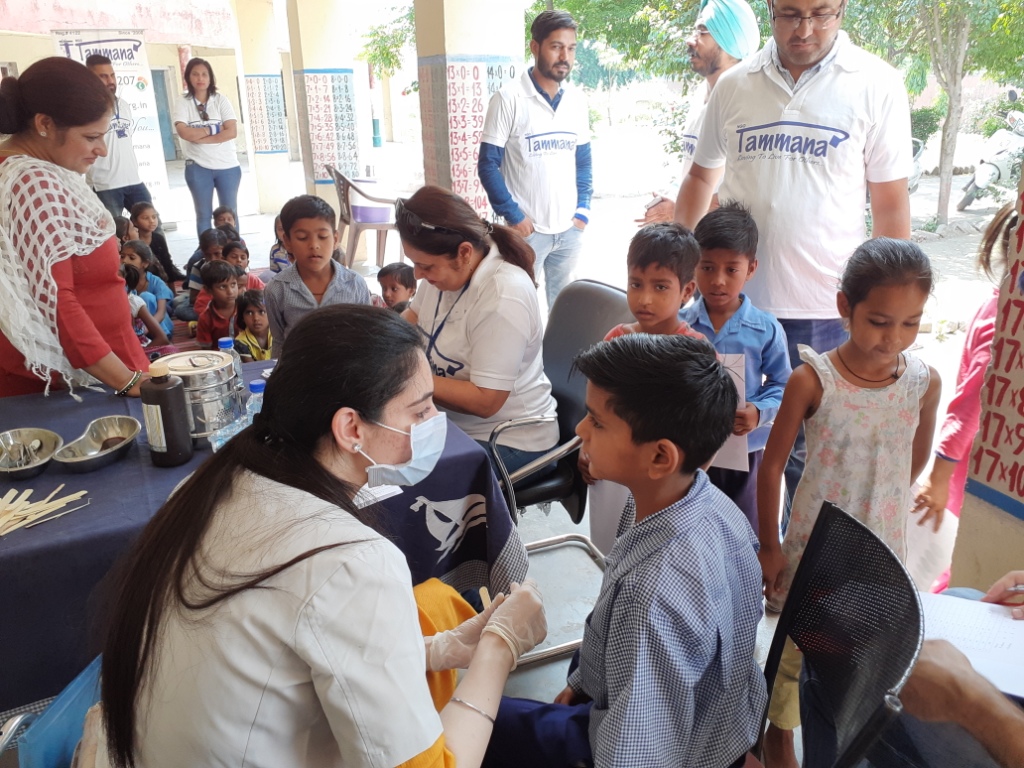 NGO Tammana in its Event 106 organized a Smile Care Dental Camp which included oral screening of the children, counselling, dental health education, knowledge of dental emergency & first aid and also the distribution of dental hygiene kits to over 80 children of the Government Model School, Village Singhpura, Zirakpur. This event was a part of the NGO's initiative 'Project Yakeen' where the it has adopted this school recently as it lacks the basic necessities & any extra curricular activities for the children. Tammana encourages children to regularly attend the school by maintaining their interest in various recreational & overall development activities from time to time.
Although many children scored well in the dental check up camp, in association with Smile Care Dental Clinic ; attention was paid to those who needed the same.
To inculcate a dental care regime amongst children, a demonstration was also delivered by the associated dentist which also included a descriptive lecture about the correct brushing techniques. Quiz was played to the related topic & dental goodies were distributed. They were also taught that it is important to brush atleast twice a day using a proper toothbrush and paste. 
Eating right is another aspect which was discussed. They were taught that regular candies, sweets, snack foods, sugary foods and aerated drinks like soda & cola, etc. can cause harm to our dental health. They were encourage to have nuts, fruits, and vegetables instead as they are good choices for healthy teeth since they are high in water and fiber, which balance the sugars they contain and help to clean the teeth. 
Post the lecture & the camp, healthy refreshments were served to all, following distribution of dental hygiene kits inclusive of a medicated toothpaste and a medicated toothbrush each.
The Founder President of the NGO Ms. Isha Kakaria shared that 'The aim was to introduce them to maintaining dental hygiene through today's check up camp. One of the most ignored aspects about maintaining good hygiene is proper dental care. Children love to snack on sugary foods & hence are more prone to getting cavities and dental problems. To maintain healthy teeth and gum it's important to have thorough dental knowledge, regular check-ups and professional cleanings.'
The event concluded well & the children were all smiles and they promised to take care by maintaining the dental health regime.