Event 128 : Free Medical Camp in Govt. Elementary School, Zirakpur
Posted in :
Events and Activities
on
by :
NGO Tammana
Comments: 0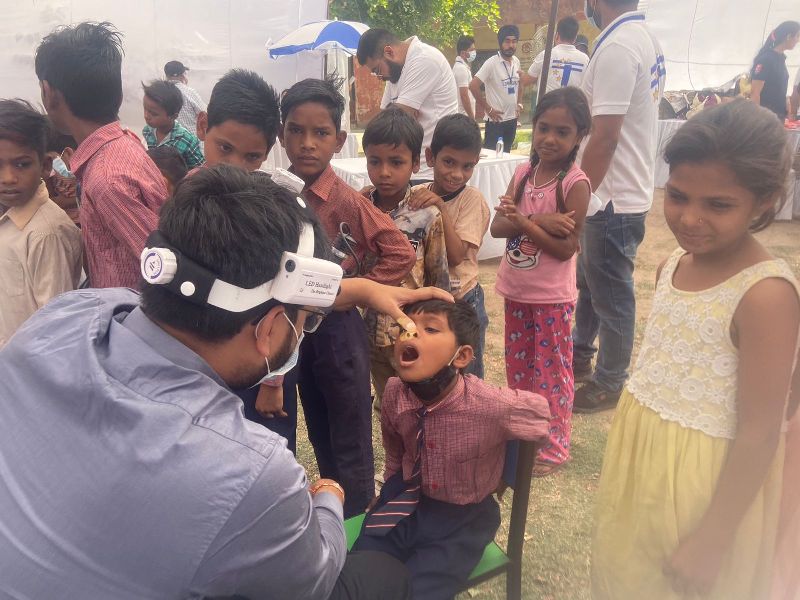 NGO Tammana organised its 128th event – a Free Medical Camp for 150 children on May 07, 2022, in Govt. Elementary School, Village Singhpura, Zirakpur, Punjab, under its Project Yakeen Initiative.

"Recognising the challenges faced by the underprivileged to access primary healthcare including their lack of awareness about the basic nutrition requirements in children, the aim to organise this free medical camp was to provide an overall health & hygiene checkup for the children", shared the Founder President Isha Kakaria.
Event SPOC and NGO's Joint Secretary Vipul Vohra shared that " many super-speciality doctors from various departments volunteered & associated with us for the medical camp. The camp included Dr Rajan Sharma (Ophthalmologist) from Dr Ashok Sharma's Cornea Centre, Fortis Healthcare, Dr. Nidhi Chadha (Pediatrician), Dr Vikram Singla (Otorhinolaryngologist) from Govt. Hospital Phase 6, Mohali & volunteers from Dental College, Panjab University as the associates. " 
Nutritionist & Dentist Bani Singh, also a Member of the NGO Tammana, & other hygiene and overall health counsellors Simran Bhatia, Gurleen Singh & Jasprit Chawla stepped up to counsel the children on adopting healthy lifestyle habits by displaying various informative charts. It included a brief session on eating the right food like seasonal and green vegetables and fruits, avoiding plastic to store food and the nutritional content of food. 
Pharmacist Lifevision Healthcare helped provide the basic supplements like Calcium, Iron, Multivitamin etc. all at the doorstep of the Project Yakeen school, while Grazitti Interactive,  Orziva Healthcare Pvt. Ltd  & team members contributed towards the distributed health & hygiene supplies like toothbrushes, toothpastes, shampoos, masks, soaps etc.
"The counsellors sensitised the children on maintaining hygiene by washing hands regularly and before & after eating, segregating dry and wet waste, keeping the surroundings clean and engaging in physical activities to stay fit." shared General Secretary Jaskaran Singh.
The children, divided into small groups, were monitored for BP, weight, height, vision, and oral hygiene as a part of their general checkup.
Team members served healthy refreshments to all promote healthy lifestyle habits, sponsored by Orziva Healthcare Pvt. Ltd & Grazitti Interactive & under their CSR Initiative.
No littering was duly taken care of by the children and team members, shared the PR Manager Sana Sachdeva.

Children promised to adhere to good hygiene practices taught at the camp and remain physically fit by exercising regularly and adopting healthy habits.