Event 115 : Mission 'Karona'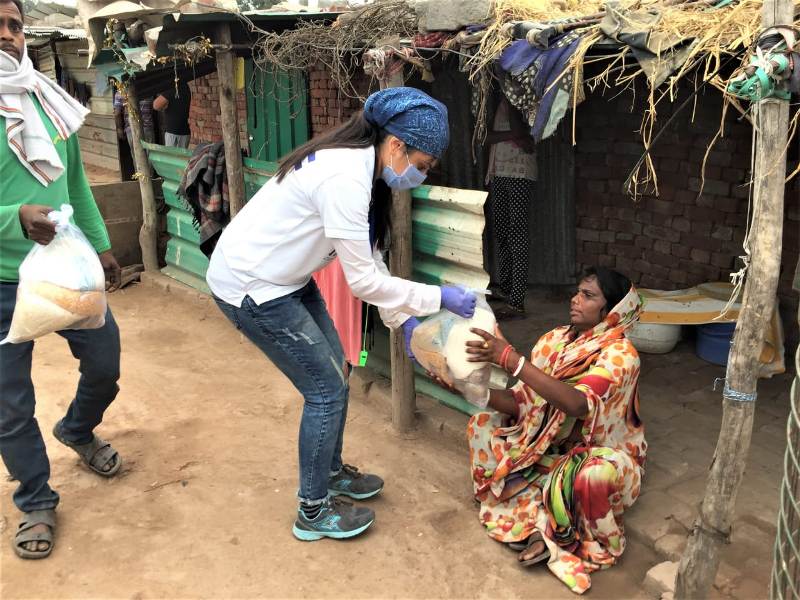 The humanitarian victory of mission 'KaroNa'
 The emergence of COVID-19 pandemic continues to spread panic across the globe since January. In India, it has led to mass human displacement and unemployment triggers. As economic stress loomed in India, NGO Tammana was resolute to fight for humanity and against Corona. 
 The master plan of "KaroNa: Fight against Corona" outreach campaign in the NGO was conceived in the third week of March by its General Secretary, Jaskaran Singh. 
Founder, Isha Kakaria collated that, "In the beginning, it was hard to imagine that a humanitarian crisis could be this deep. We couldn't sit back, we had to rise. And we did.  Action for us started on 26th March as we carried our first distribution drive for those in need.
 Maintenance of data & fund raising, getting the permissions, and cooperation with authorities was no easy feat. Even with these challenges on hand, Team Tammana launched the KaroNa campaign with fervor.
 "Coronavirus showed us hardships and chaos at the grassroots levels of the Tricity & around. We ensured proper identification of the households in need,  before handing over to avoid stockpiling in the same families", shared the General Secretary, Jaskaran Singh.
 He also shared some of the challenges they encountered including the "Adherence to health and safety protocols was the primary challenge. Physical distancing and hygiene measures were to be practiced at every level. We learned it was hard to explain common people the need for physical distancing. Member Tejinder Singh, added that during the distribution, commotions were experienced as people rushed to take their relief material. Maintaining distance was a challenge not just for the people, but also for members on the ground. Seeking permission to conduct campaigns as per the protocols was a priority for the NGO, revealed The Office Coordinator, Meenakshi Mahajan. As per the ethics, Tammana made sure that all the necessary permissions were obtained from the administration. Transport and travel ban due to Curfew & then lockdown across Tricity meant there were limited vehicles & no commercial transportation vehicles on road. Only those vehicles with curfew pass were allowed to ply. This situation made it very difficult for us to conduct distribution drives." 
 Public Relation Officer, Sana Sachdeva, shared the campaign highlights. "With just 2 members active on the field, but the entire team at the back end raising funds; we managed to support 1545 families with repeated rounds of dry ration consisting of Rice, Lentils, Flour, Cooking oil, Spices, Vegetables etc for atleast 10-12 days for an average size family of 5. 21 types of material were distributed in 15 distribution drives. Safety kits consisting of sanitizers and Reusable Gloves were distributed to a total of 1008 garbage collectors and sanitization workers. 500 sanitary kits were also distributed to women.
With each distribution drive, our team found an excellent opportunity to speak to people and demonstrate about the hygiene and safety measures. From a safe distance, the message about safety was conveyed. Members of team Tammana shattered the taboo of using sanitary pads by females. More women came out of their shells to ask questions. Our 1-to-1 talks gave them the assurance to use the pads and adapt a hygienic lifestyle. Empowerment of the less privileged has always been of the prime importance for NGO Tammana".
 Member Executive, Suman Hooda told that team Tammana Covered 35 locations in all the drives covering up Guru Nanak Colony,Mohali Pind, Zirakpur, Singhpura, Baltana, Nabha Sahib, Dappar, Kauli Majra, Derabassi, Lalru, Phase-1 (Ind. Area), Dhakoli, Peermuchalla, Bhishampura, Pabhat, Dayalpura, Madanpur Village, Faidapind, and Jagatpura. Special distribution drives were also organized for sectors 31-38, 41-49, 52, and Ramdarbar in Chandigarh.
 The PR Executive, Anubha Ohri shared, "Our initiative saw many new hands in support of our campaign. With our transparent framework, we inclined many people to trust us and join hands for this humanitarian cause. Our social media handles & the media also made a huge difference in our initiative. In total, we gathered the support of 100 Karona Warriors during the campaign. Their overwhelming contributions enabled us to raise Rs. 4,03,311/- Lacs which helped us to purchase stock and support the slum dwellers & migrants, to the best of our capacity. Every little-big contribution mattered.
 Leading with an example, Isha Kakaria was joined with members Prabhjeet Singh and Harvinder Kaur topping the collections. The networking and dogged approach ensured that we were well funded throughout. Team member Arvind Bhardwaj offered total support for web logistics. 
From stock purchasing to packing and kits allocation, the NGO takes pride in making the distribution reach the right hands , the right way. Founder Isha Kakaria, shared that "we take pride as a team for having seemingly been the first ones to start the aid for Covid & last ones to wrap it up gradually.
Harleen Arora, Project Incharge at the NGO commented that "We are now resolving individual cases as they are coming by. We are still attentive to all the distress calls and will carry on supporting people who need help."
 As Tricity reopens again, the team feels the contentment of having contributed immensely during the difficult days. This humanitarian victory is there to witness & stays in the history of the organization.