Event 99 : Sports Day at NGO Tammana for less privileged children
Posted in :
Events and Activities
on
by :
NGO Tammana
Comments: 0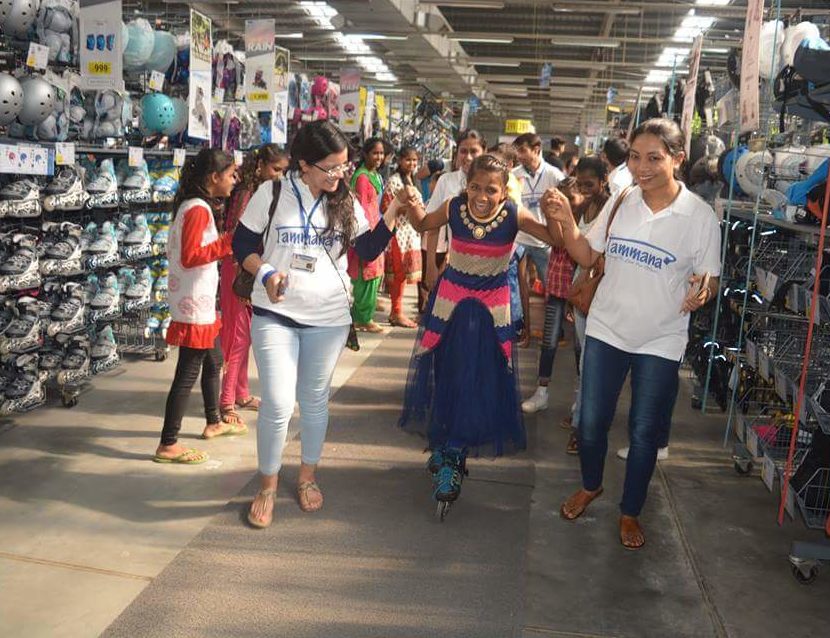 In its 99th Event, tricity based & State Awarded NGO TAMMANA organised a fun-filled sports day for 40 less privileged children from Sector 49,Slum, Chandigarh and took them to visit & experience Decathlon Sports, Chandigarh -Ambala Highway.
The children along with the team; were picked from Sector 49, Chandigarh at 2:30pm by the bus arranged by the NGO. After reaching the venue, children took no time to explore the premises and dispersed in different directions in small groups arranged with their respective member in charge.'
Their excitement knew no bounds as they experienced Table Tennis, Gymnastics, Badminton, Volleyball, Basketball, Skating, Scooter, Skipping, Scooter & Frisbee all under one roof.
The General Secretary of the NGO, Jaskaran Singh shared that the children were also given a special opportunity to buy anything of their choice & desire with Rs.200/- per head from the sports mall to which the member in charge helped each child to shop their best. The children were also taught how to buy goods at cash counters at malls. The process was a practical experience & a learning for them while they bought goods like bags, balls & water bottles.
A special Football session followed therein; in which boys & girls participated equally & had great fun scoring!
The Chief Advisor, Prabhjeet Singh Grover shared that while the games & sports wrapped up, children were taken to grab refreshing snacks that were also arrangedby the NGO. The children also danced expressing their unbound happiness, who now look forward to their next trip already.
The Founder President of the NGO, Isha Kakaria shared that, the main motive to behind the event was to familiarize the less privileged children with different indoor and outdoor sports than what they know of & play currently. Many can't afford to experience it and also lack knowledge regarding the same. The event helped them understand various games & sports they had not even heard of, saw & felt numerous equipment & raised their curious questions in delight.
They were safely dropped back by the bus at 7 pm. It was indeed a fun day for all with great team efforts, shared Member-Executive Javed Ahmed.
Tammana has been working towards the welfare of the society, especially for women and children; consistently since 10 years now…