Event 98 : Chabeel : A Community Bonding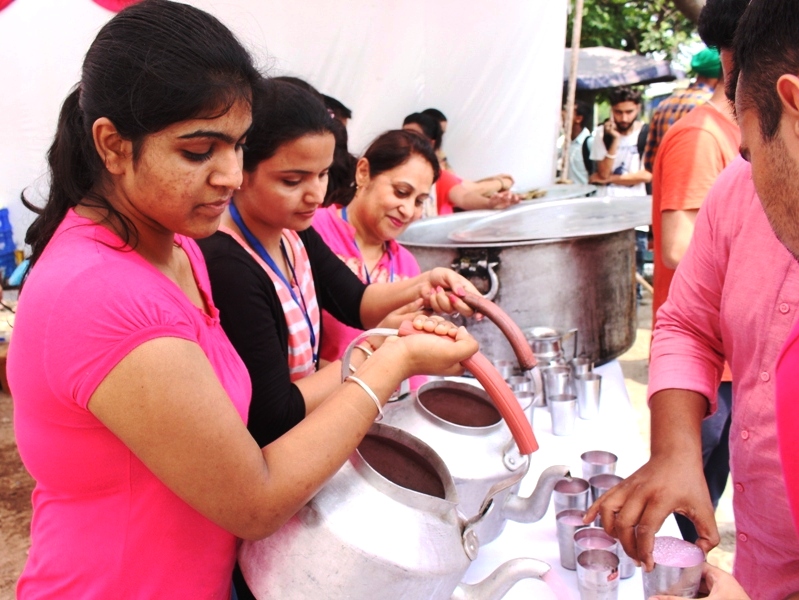 Dedicated to serving the society with its touch of compassion, the state awarded NGO Tammana has been continuously working hard to contribute its bit in every way towards various social causes.
Motivated for its 98th Event, 
the Pink Brigade at NGO TAMMANA organized a CHABEEL from 

10:30 am to 4pm

 at bus Stand Road, Sector 43, Chandigarh.
One of the prime motives of NGO Tammana to organize Chabeel every year is to promote community bonding where everyone is served without any barriers of religion or caste.It promotes unity and service for humanity that inculcates a sense of oneness among people who serve as well as those who are served.   
After a zealous effort of collecting Rose syrup, Sugar, and other Raw materials in a mere span of 15 days, to serve the sweetened water, TAMMANA was successful in serving many hundreds of longing throats, quenching their thirst in the scorching heat, shared Mr. Prabhjeet Singh, Chief Advisor of the NGO. Channa Prasad was distributed too.
Event Coordinator, Ms. Meenakshi Mahajan, shared that spreading the word about the event through social media platforms of the NGO helped in getting a lot of contribution from their respective friends & families. The general public poured in contribution in the form of cash and kind generously before the event and also directly at the venue. The contribution in cash helped in arranging tentage, ice, raw materials etc.The event indeed promoted the thought of service for humanity. The stock collection in kind was taken care through Tammana's varied drop centers.
Mr. Jaskaran Singh, Joint Secretary with NGO shared that,  choosing the main road opposite the bus stand as the venue was the best part as it gave a sigh of relief to countless passengers & drivers around. A part from serving, special hygiene measures & of no littering were taken care of. The running traffic continued undisturbed.
The Founder President, Ms. Isha Kakaria shared that usually, a lot of people can't afford to buy bottled water for themselves. Considering the fuming temperature, it is very important for everyone to stay hydrated. The entire team has performed an incredible task of collection & distribution of the same.The enthusiastic members of the NGO were dressed pink than their usual blue & white code to dedicate a day marking the message to serve, shared Ms. Monisha Sharma, the Human Resource Manager at Tammana."The best way to find yourself is to lose yourself in the service of others."  -Mahatma Gandhi.