Event 131 : 'ASHIA 14' Annual Award Ceremony
Posted in :
Blog
on
by :
NGO Tammana
Comments: 0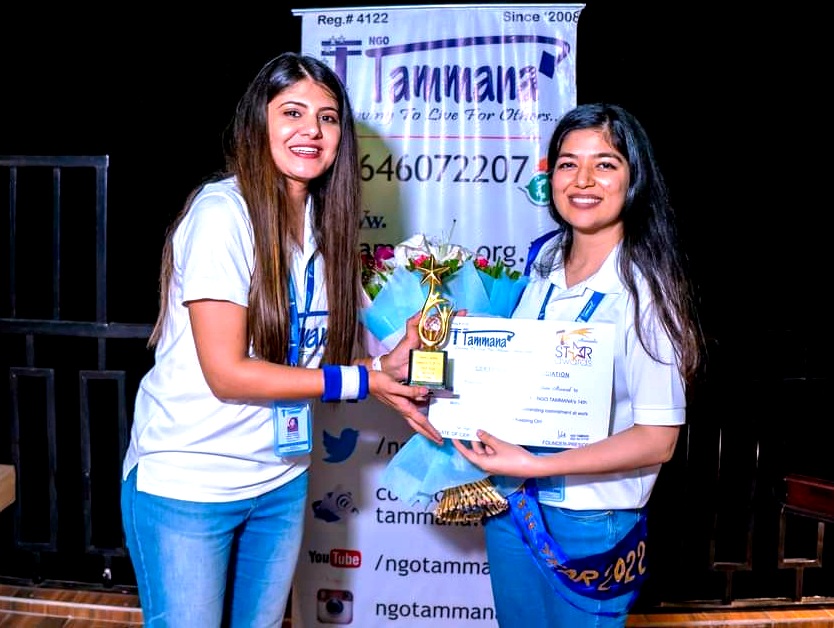 The Tricity-based NGO Tammana turned 14! To celebrate their achievements and the remarkable journey, the NGO members organized their Annual Award Ceremony in a 1N2D member contributed trip and en-routed Kasauli for its 131st event called ASHIA-14;
meaning Life and Hope.
State-Awarded Founder President Isha Kakaria of the NGO shared " The Annual Award Ceremony is organized every year to acknowledge & appreciate the contributions of members working voluntarily & actively towards bridging the gap between those who have and those who need. The team together helps the organization meet its aims & objectives."
"This year ASHIA 14 was held in the lap of nature with the Lamp Lighting Ceremony followed by the National Anthem. Thereby; the Annual Award Ceremony was officiated" said Jaskaran Singh, NGO's General Secretary.
Kanika Sapra was sashed as "Tammanite of the Year'2022 as the highest 7 Star Award " while the other 7-Star Awards were presented to Sheffy Chabbra, Harleen Kaur, Karan Rana, Chandan Preet, Naveen Pabreja & Anubha Ohri.
Harleen Kaur & Chandan Preet graduated with 3 Years at Tammana.
Wood Award was presented to Aashish Pal Singh & Anubha Ohri upon completion of 5 years at the NGO, followed by awarding Gurshant Sukhija & Arvind Kumar who completed 6 years, and also to those completed 7,8 and 9 years respectively.
Members who completed 10 years are Vipul Vohra , Prabhjeet Singh, Bani Singh & Meenakshi Mahajan.
Isha Kakaria the Founder herself & Joint Secretary Jaskaran Singh successfully completed 14 years at the NGO.
Suman Hooda, Jaskaran Singh, Harwinder Kaur, Sana Sachdeva & Rishabh Sood were awarded the 'Superstars' who outshined the whole year; . Back-end appreciations included for Ritika Goel, Arvind Kumar, Kamalpreet Kaur, Vandana Ghuman & Meenakshi Mahajan.
Joint Secretary, Vipul Vohra shared how members danced their hearts out after the formal ceremony & enjoyed the potluck meals !
Experience recognition was given to 26 NGO members. 4 members completed 1 year, 5 members completed 2 years, 2 members graduated and 4 members completed 4 years.
Administrative Head, Suman Hooda shared that " Members adorned their official dress code. The award ceremony was followed by a Cake cutting ceremony sponsored by BK Confectioners & Bakers. Refreshments were served and the celebrations were followed by team bonding activities & games."
NGO's Internship Manager, Sana Sachdeva shared that apart from members, 200 plus interns from all over India have completed their Internships with the NGO in all these years till date and helped touch countless lives.
Team members are all geared up for their 15th year and aim to continue uplifting the deprived under its various social initiatives.
NGO Tammana thanks all the media, its associates, the families of the members & all from the public who continue to support all the efforts towards the upliftment of society & community bonding.