Event 96 : A chapter called books
Posted in :
Events and Activities
on
by :
NGO Tammana
Comments: 0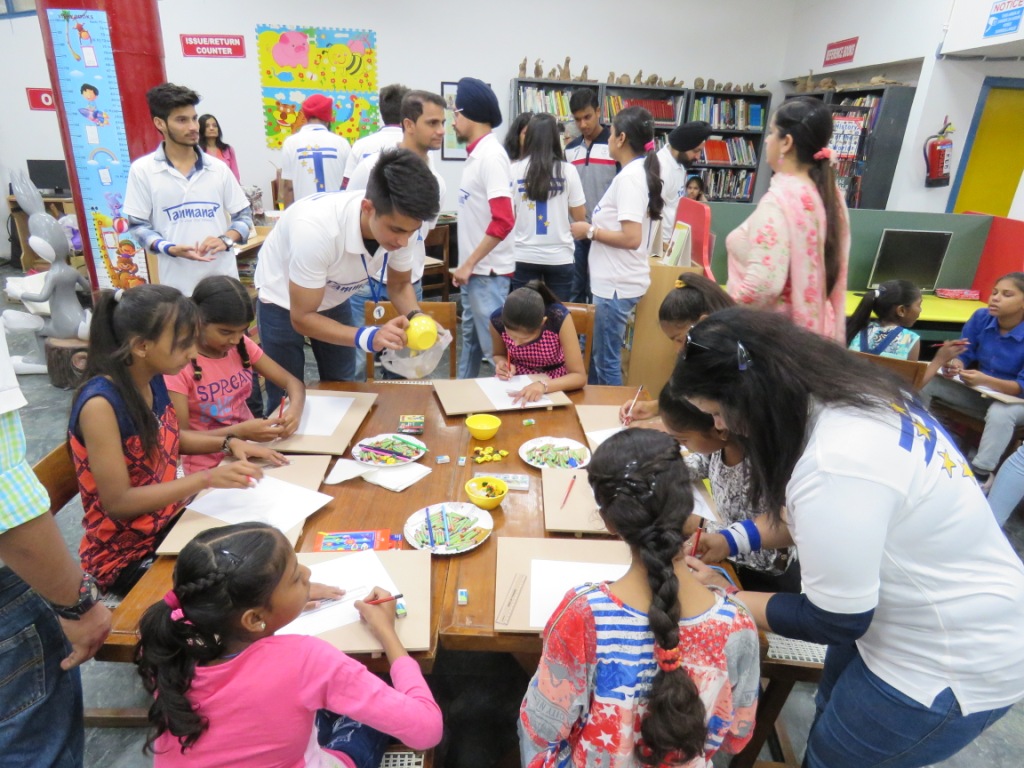 With many accolades recognizing its work, NGO Tammana has always pushed itself farther to work hard towards creating a better tomorrow for the children, touching lives in a creative manner.
To celebrate the spirit of World Book Day, 2018, and to create awareness about the importance of education   in our lives , NGO Tammana in its 96th Event, decided to take 50 children , accompanied by the staff  from Government Model High School, Sector 25 Chandigarh to a tour of The Central State Library, Sector 17 Chandigarh.
As per Right to Education, all government schools provide free education in the forms of books, bag, uniform, mid day meal and more,  to a child upto 8th standard .
It is noticed that many parents withdraw their children from schools after completion of their primary or elementary education. We  all  see many children begging at various light points or working as laborers for a meager sum of money because of their not so good financial conditions & majorly also because their uneducated parents lack knowledge on the significance
of education. They survive with the earnings added by the children. They not only take away their childhood but also a scope for their better future!
Understanding the severity of this issue, NGO Tammana took this little, but a creative step towards spreading awareness about education.
The Member Coordinator of the NGO, Ms. Kriti Thakur shared that children were picked from their school and were transported to the venue in a bus arranged for them.
They were accompanied by Team Tammana that comprises of young and enthusiastic volunteers with a common goal.
Before entering the library, children and volunteers were addressed by the Founder Member of the NGO, Ms. Isha Kakaria. She made the children understand how education and books play a crucial role in the development of their mind, enhancement of their knowledge, and provide them with the opportunities for a secure future.
Afterward, they went inside to take a closer look at the library. Children were awestruck when they saw the gigantic categories of the books available in the library, as the school libraries lack such diversity. They learned that knowledge is not confined to schools but at the same time how important it is to complete their schooling as it is the basic criteria for getting independent. Children explored the library in little groups along with the volunteers, asking varied questions and had a good time.
Ms. Anukiran, Human Resource Manager of the NGO, shared that a drawing competition on the theme of education was also organized for the children on the same day. The children were really excited to participate in the competition because the topic was the importance of education. Their enthusiasm knew no bounds when colors were handed over to them.
Mr. Jaskaran Singh, General Secretary of the NGO further shared that refreshments were also arranged for them and 'no littering' was taken care of especially as a part of imparting practical knowledge about keeping their surroundings clean.
The competition was followed by a prize distribution ceremony and the best three participants were awarded. It was indeed a colorful and enlightening experience for the children. They were dropped back to the school. Their parents received them and appreciated the effort of the entire team. Children promised to take their education seriously, read more books and spread awareness in their neighborhood about the same.
There is no friend as loyal as a book.
-Ernest Hemingway
Education is an ornament in prosperity and a refuge in adversity.
-Aristotle