Event 103 : 'Project Yakeen' launched by NGO Tammana
Posted in :
Events and Activities
on
by :
NGO Tammana
Comments: 0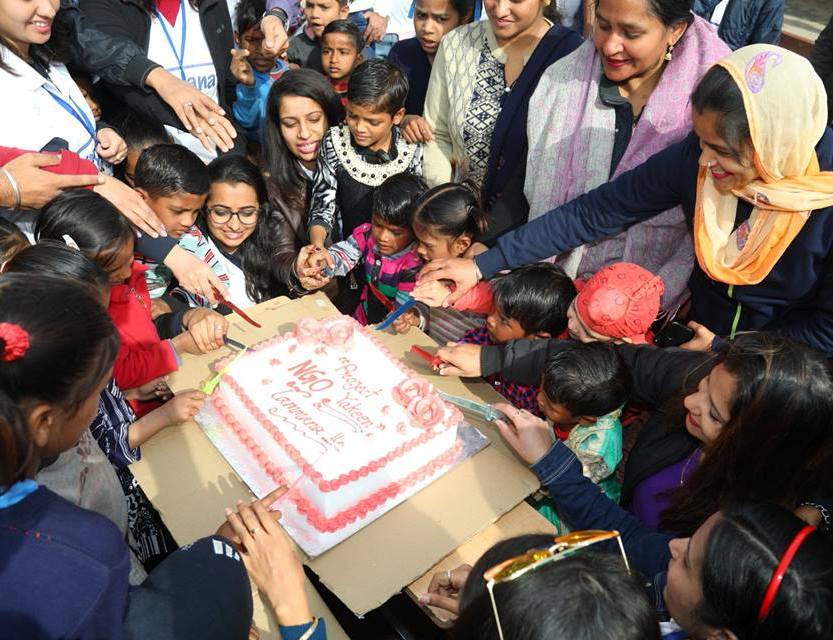 A decade old now & ever so young in its spirit, the Tricity based & State Awarded NGO Tammana launched its "Project Yakeen" by adopting a Government Model School in Village Singhpura, Zirakpur (Punjab) today.
Founder President Isha Kakaria, shared that "Unlike other Govt. Schools, or the ones in Chandigarh, this particular one is in dire need of attention. With a strength of 120 enrolled children, the school witnesses an attendance only of nearly 50 percent. The school is upto Class 5, and has 4 classrooms out of 2 need serious repairing as the roof may fall just anytime. Children currently share classrooms. With no playground and very minimalist infrastructure, this school lacks the most basic amenities. Team Tammana comes from different background, interests & fields & hence shall be putting forward every contribution to develop different interests for children into basic studies, inculcate them into extracurricular activities & the overall development of the school."
Making sweet beginnings for the project on Sunday,24th February 2019, a Meet and Greet program was organised by the NGO as its 103rd Event. Starting with a prayer ceremony and the singing of the National Anthem; a special cake cutting with the children was then done. This was followed by the distribution of the same & many other refreshments too including fruits & juices just as the children seeked. 
The children were joined by the school principal & their teachers. Maintaining the hygiene, no littering was taken care of. Children were sensitized for keeping the premises clean always. An educational & a fun quiz was played with the children and chocolates & gifts were awarded to them. Children enthusiastically played many other outdoor games and the best three participants were rewarded. The dance & music waved a path for the children to explore a different environment at school. The children were thrilled meeting the team members & enjoyed getting clicked too.
General Secretary of the NGO, Jaskaran Singh shared that " NGO Tammana being Punjab Registered, it was an opportunity to grab. Feeling the great difference in the experience of coming to school, all was completely new to them. They are pumped up to attend regularly with our commitment to them to be visiting them often with new activities. "
"Concluding the event, Team members then bifurcated the children in different groups- like singing, dancing, drawing, sports, and craft. A lot of Activities for these interest  groups would be organized time to time from hereon." revealed Kriti Thakur, Member Coordinator.
Excited with new goals set, to improve these untouched lives, the team members wrapped up the event at noon.